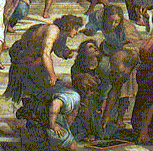 Baldriga's Virtual Classroom
A Virtual Classroom has been created to promote discussion among the group. Students are strongly encouraged to participate, sending materials and sharing thoughts and opinions about the topics treated in the real class, assignments and readings. Proposals are welcome.
You can join the Virtual Classroom from the site www.nicenet.org, typing the code you will be provided by the Instructor after the add-and-drop period.