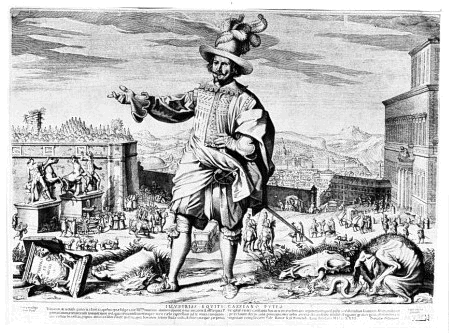 Portrait of Cassiano dal Pozzo (?) among Roman ruins, etching
Description of the course:
An examination of the management of Roman cultural heritage from a multidisciplinary perspective. The course draws on art history, papal history, economic interests, and cultural aims in its approach to the transformation of the image and the perception of Rome. Topics include the preservation and exhibition of antiquities, some aspects of restoration, conservation, collecting and museums, legislation, artistic institutions and cultural heritage exploitation. Includes site visits within Rome.
Course objectives:
By the end of the course students will have:
- an outline of the urbanistic development of the city of Rome from ancient times to present day;
- a knowledge of the most important artistic styles which overlapped in Rome over the centuries;
- a familiarity with the conservative and art historical critical issues involved by the close cohexistence of modern and ancient works of art;
- an awareness of the legislative difficulties meant by the management of historical sights which cannot be isolated from the "living" part of the city;
- a knowledge of the origins and development of the concept of "museum", in its private and public forms and purposes;
- an awareness of the unique cultural role played by the city of Rome as a model of beauty which historical "aura" could attract generations of artists and travellers;
- a knowledge of the economical issues involved by the management of the Arts in the city of Rome;
- an ability to understand the styilistic and historical layers so often recognizable in Rome's monuments.